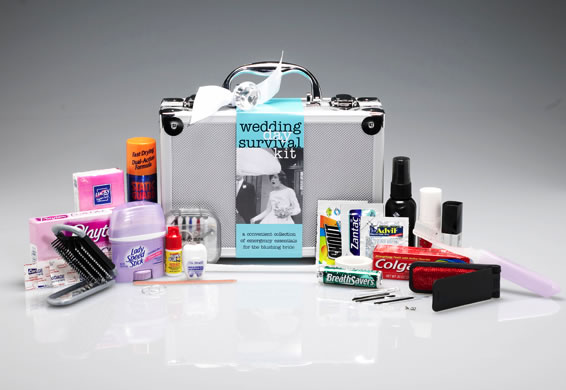 Brides all hope the most magical day of their lives will go off without a hitch but it is still important to prepare for something to go astray. So to help you prepare for emergencies I have compiled this extensive list of items you might want to have on hand. Hope this list helpful.
You can even purchase prepared kits, such as the one in the photograph.
Click through to see the list.
Hair Care:
Brush/comb
Hair spray
Hairdryer
Curling iron
Straightening iron
Bobby pins and hair elastics
Nail care:
Nail file
Clear nail polish (also helpful for stocking runs)
Nail polish in the bride's shade
Nail glue
Makeup kit:
Make up (try for waterproof options where you can)
Lip gloss
Lash glue
Personal Hygiene:
Mirror (small and portable)
Breath mints (try to stay away from gum, for so many reasons)
Perfume
Deodorant
Dental floss
Tweezers
Hand/Body Lotion
Hand Sanitizer
Moist towelettes
Mouthwash
Sunscreen
Q tips
Razors(disposable) and shaving cream
Tampons or pads
Toothbrush and toothpaste
Tissues and/or Handkerchief
Wash cloth or hand towel
Extras:
Extra panty hose
Extra earring backs
Extra pair of flat shoes
Miscellaneous Items:
Sewing kit (Buttons, Hem tape, needle, safety pins, small scissors, straight pins, thread that matches the wedding/bridal parties dresses)
Wrinkle out spray (test it out on an inconspicuous part of the dress before using!)
Tide to go pen or chalk (to cover any stains on the dress)
Baby powder (useful for getting out last-minute spills on a white dress)
Static-cling spray
Iron
Lint brush
Shoe polish
Lighter
Double sided tape
Umbrella
Batteries
Duct tape (handy for repairs)
Extra copies of directions to your reception
Important phone numbers (Family, wedding party, vendors)
Notebook and pens
Cash (you never know what you'll need it for)
Camera
Driver's license or photo I.D. card
Cell Phone
First Aid Items:
Antacid
Aspirin/ibuprofen/Tylenol/Advil (your preferred choice)
Band-aids (that best match your skin tone)
Contact lens solution/cases
Heel Cushions
Medications (any current medications you may be taking)
Eye drops
Birth Control
Food:
Snacks (fresh fruit, granola bars, nuts, dried fruit, etc.)
Bottled water
Straws (for drinking without messing up lipstick)
Chocolate (instant energy if you feel faint or light headed)
Coffee